Viva Bus Rapid Transit, often abbreviated as Viva, is a privately owned company, however monitored and under the jurisdiction of a P3 (Private-Public Partnership) company, namely Gravenhurst Regional Transit (GRT). Viva operates all the bus rapid transit service across Gravenhurst Region. Currently, Viva only operates in the City of Vandehogan, but there are future plans to expand its network and service coverage to areas such as Lethbridge Census Metropolitan Area and Lisi.
Viva Headquarters is located in Downtown Vandehogan, within the Vandehogan Terminal.
Viva was established on January 15, 1996, as a municipal service operated by the City of Vandehogan. The service was transferred to a regional level in 2008, as a proposal of the possibility of expanding the service area to other parts of the region.
Partnership with Gravenhurst Regional Transit
Edit
Viva routes, despite operated by another company, are embedded within the Gravenhurst Regional Transit system. Passengers are welcome to use both fare media while on either service. Gravenhurst Regional Transit will also increase / decrease service accordingly in due respect to the bus rapid transit system level.
There are only 2 payment options when riding the Viva (identical to GRT, but the physical media looks different), Cash Fare, also known as 1Ride, and gCard Fare.
The cash fare is $1.50. This fare could be used anywhere on the current Viva system, and on any GRT route operating within the City of Vandehogan.
The fare applies to an age range of 13 - 75. Children 4 or under can ride free. Seniors 100 or over can also ride free. Children 5-12 years old and senior between 75 - 99 can ride with half the fare. There are currently no student discounts available at this point, but it is planned to be implemented in Summer 2009.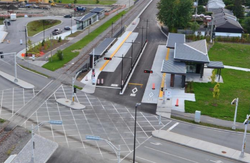 The current service only applies in the City of Vandehogan. There are 3 rapid transit lines that Viva operates. Currently, parts of the 3 transit lines feature reserved bus lanes. In the future, these bus lanes will be extended, and as well, be upgraded to transitways. The bus lines operate on dedicated "vivastations".
The 3 rapid transit lines are: