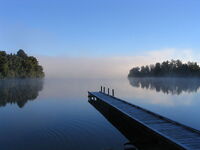 Muskoka Lake (Spring 2010 population 13) is a township located in Gravenhurst Region. Incorporated in 1955, the township is located immediately south of the township of Guelph South, and north of Harrison. It is a popular resort town to the nearby residents in Archemedes.
The township has an area of 816.24 squared kilometer.
Demography
Edit
The township is the smallest in terms of population out of all 40 municipalities in the region.
In Summer 2009, the township recorded an all-time low population of 3. The population change between Winter 2008/09 and Summer 2009 was - 75%. In response of this, the parliament of Gravenhurst Region planned to re-merge this township into either the City of Archemedes, Township of Guelph South, or the Town of Harrison.